CONSERVATIVE INVESTMENTS? 10%+ RETURNS WITHOUT UNNECESSARY RISK
CLICK HERE TO UNDERSTAND WHAT WE MEAN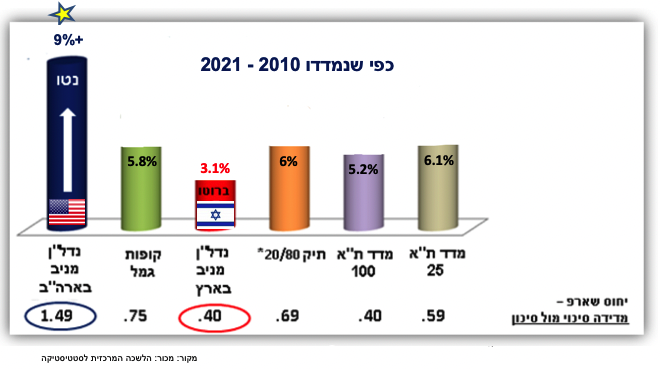 It goes without saying that our biggest fear when investing is how much is our investment at risk?
Do I choose a low yield return with less risk or a higher potential return that will put my hard-earned money at greater risk?
American Eagle Equity LLC was founded, built and continues to be managed by owners who themselves are very conservative investors. Headquartered in New York, our DNA is not to get caught up in the struggle between risk and returns but to look for the real estate investments which will offer the best returns vs the lowest risk. Not surprisingly, there are such investments!
Below is a chart showing average GROSS annual returns on various investments in Israel VS average NET annual returns our investors are enjoying on their real estate investments.
Beyond the higher yearly returns, The most significant aspect is the "Sharp Ratio" which measures how much additional returns you can receive vs the instability of holding a risky investment. A higher high Sharp-Ratio reflects better performance with lower risks.
As seen in the chart above, investments in passive income real U.S. estate offer the best annual returns (NET after expenses) with the highest (best performing) "Sharp-Ratio".