ABOUT ST. LOUIS, MISSOURI
"THE GATEWAY CITY"
1/2 hour flight from Chicago, 1 1/2 hours from NY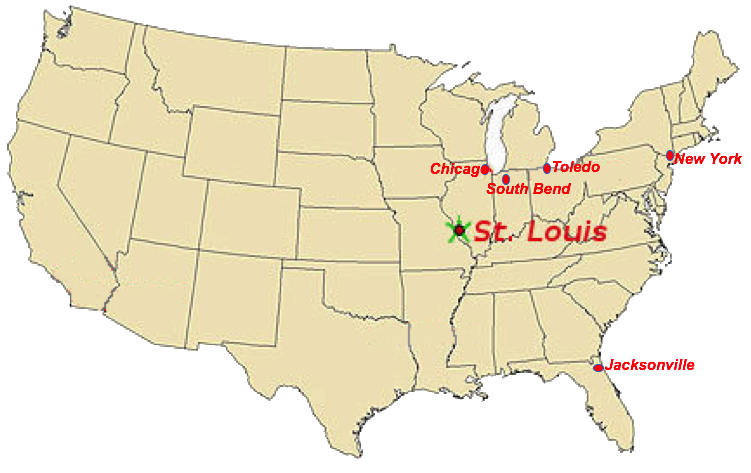 The St. Louis housing market:
While the housing market in Metropolitan St. Louis continues its upswing, the average price per unit in our market is considerably lower than that in other major cities in the United States. Saint Louis offers fully rehabbed, tenanted properties in stable, middle class and densely populated neighborhoods, all in the $45,000 to $65,000 range that make St. Louis ideal for Passive-Income investments. A two - three bedroom, single-family home in a comparable neighborhood in Atlanta would range between $80,000 to $100,000, and in Miami between $100,000 - $125,000. With all costs being considered, the Metropolitan St. Louis market offers double digit net yields. Average returns on real estate investments in St. Louis exceed those of other comparable markets including Atlanta, Miami, Cleveland, Chicago, and Philadelphia. We believe that St. Louis is the optimal real estate investment location.
General overview:
St. Louis, Missouri LOVES its Cardinal baseball team and takes pride in its reputation for being the "Beer Capital" of the country. A culturally diverse city featuring the 19th largest metropolis in the United States, St. Louis is known for its large rivers and ports that play a major role in transport and shipping industries. The major economic sectors of St. Louis are science, technology, and education, with nearly 30 colleges and technical schools located in the city. St. Louis is also the home of the famous Gateway Arch, as well as other renowned architecture such as the Thomas F. Eagleton United States Courthouse and the AT&T building.
Population: 355,685 (city), 2,811,588 (metro)
Cost of Living:
Greater St. Louis has a very affordable cost of living, well below the U.S. metro average and among the lowest of the nation's 20 largest metropolitan areas.
Employment:
St. Louis is home to nine Fortune 500 companies and is home to dozens of companies listed on various stock exchanges in the U.S., with market capitalizations ranging from over $500 thousand to more than $40 billion. Among these public companies, Greater St. Louis is home to 21 Fortune 1000 headquarters, of which 9 following are Fortune 500 companies:
Express Scripts Holding
Emerson
Monsanto
Reinsurance Group of America
Centene
Peabody Energy
Ameren
Graybar Electric
Jones Financial

Higher Education:
With over 30 four-year colleges and universities enrolling more than 125,000 students, the St. Louis area produces more than 25,000 graduates with bachelor's, post-bachelor's or professional degrees each year.
The area also has an extensive network of community colleges, which enroll an additional 65,000 plus students, as well as vocational and technical training facilities and some of the most highly rated elementary schools and high schools in the country. As a result, Greater St. Louis is a great learning environment in which to grow up, as well as a sought-after destination for thousands of people from around the country — and the globe — who are attracted to its top-tier education resources every year.
Many of the best and brightest who study in St. Louis enjoy the community so much they decide to plant their roots here after earning their degrees. In fact, the Nobel Prize has been awarded to St. Louisans in nearly every Nobel category — physiology, medicine, chemistry, physics, and literature. Among those benefiting from this situation, of course, is the St. Louis business community. A smart, hard-working work force fuels the growth of companies throughout the region.
Washington University in St. Louis
Saint Louis University
University of Missouri-St. Louis
Webster University
Fontbonne University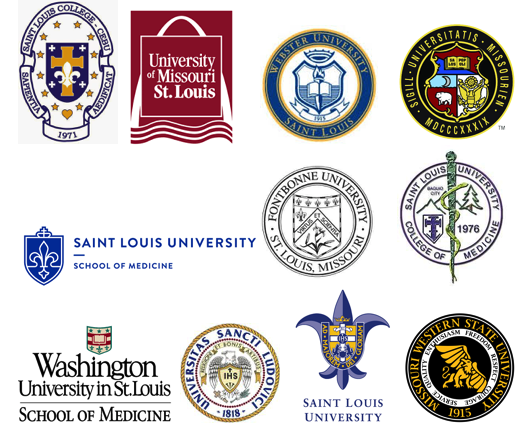 St. Louis Highlights!
#1 "Best Place to Raise Your Kids in Missouri" - Business Week 2015
#1 Most affordable housing of the top 20 largest metropolitan areas in the country - National Association of Home Builders 2016
#8 "America's Best Housing Markets" based on low foreclosures, rising home prices, and affordability - Forbes
#11 Best Cities for Families - Parenting Magazine 2011
#13 for Gen Y Workers - those born between 1982-1993 - Payscale Inc.
#14 Best College (Washington University) - US News & World Report
( Fortune 500 and 21 Fortune 1000 Companies.
54 head-offices of large to major corporations.
Thriving casino industry of which hosts Casino Queen Hotel, Hollywood Casino, Lumiere Place Casino & Hotels, and the River City Casino.